The competition is hotting up as we hit the top 10 Albums which rocked 2016's socks off…as decided by me!
10) The Shrine – Rare Breed
Genre: Stoner Metal/Hard Rock | Label: Century Media Records
One Line Summary: Get your biker jackets and set course to headbang alley with this 70's inspired stoner metal band that have the hair, the riffs and aren't afraid to crank up the tempo and ride full throttle to adrenaline heaven.
Top Track: Coming Down Quick – A menacing gargantuan opening riffs plods along before being blasted skywards by a barrage of thumping power chords.
Watch: Coming Down Quick

9) Black Pistol Fire – Don't Wake The Riot
Genre: Blues/Rock | Label: Modern Outsider
One Line Summary: Unsung heroes of vintage bluesy pop rock homages play with an dirtied fuzz fueled sound that boogies and swaggers out of the Deep South nodding to BB on their way to the crossroads.
Top Track: Fleet Foot – Foot stomping country barn dance number that showcases their authentic sound and knack for reinvigorating the humble blues riff.

Watch: Bad Blood
8) Scorpion Child – Acid Roulette
Genre: Hard Rock | Label: Nuclear Blast
One Line Summary: A* pupils of the new school of classic rock get top marks for rocking like it's 1975 with groovy hip shaking blues power and impressive rangy vocals time traveling back to the good old days of rock'n'roll debauchery and excess.
Top Track: Reapers Danse – High energy set to 11 rocker which blasts through riffs like a Gatling gun packaged with those powerful vocals and lively keys for backup.
Watch: Reapers Danse
7) Valley Of The Sun – Volume Rock
Genre: Stoner Rock | Label: Fuzzorama Records
One Line Summary: If you like your rock loud, proud, fast, packed with melody, guitar solos, energy and towering strength this Stoner come Hard rock adrenaline shot, it is about as good as it gets!
Top Track: The Hunt– A stampeding juggernaut of stoner rock that you must grip tight and to hold on for a thundering ride.
Watch: The Hunt
6) Weezer – Weezer (The White Album)
Genre: Rock | Label: Atlantic
One Line Summary:Rejuvenated 90's rockers continue to hit new career highs with this upbeat and sun soaked record to spin on those long endless summer evenings, playful melodies, full keyboard workouts, captivating lyrics and as always plenty of inimitable ooooh-aaaaahs and crunchy rock chords.
Top Track: Thank God For Girls – Bright keys gently jaunt through this beautiful mesh of loud chorus chant vs. low key verbose lyrical verses that are sprinkled with sparkling wordplay.
Watch: Thank God For Girls

5) Crobot

 – Welcome To Fat City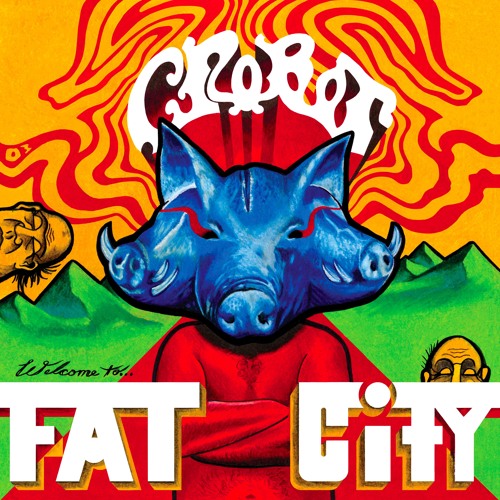 Genre: Hard Rock | Label: Nuclear Blast
One Line Summary: 2015's Album of The Year makers return full of that warm fuzzy groovy guitar riffing which makes their stratospheric version of bluesy hard rock totally irresistible and stonkingly addictive.
Top Track: Not For Sale  – Superstar vocals surround the pounding rhythms over a simple but god darnit superstar riff makes for a stunning song which rocks the ground beneath it rolls, but watch out for the epic rock-out crescendo topped with a feedback effect thats so damn cool it hurts.
Watch: Not For Sale

4) Royal Republic – Weekend Man
Genre: Rock | Label: Capitol Records
One Line Summary: Take some jaggedly strutting riffs, chop and add some funky beats, mix well with The Hives style and melody-centric garage rock and add the whimsical essence of Electric Six, crank up the tempo and you'll create the most smile inducing, infectiously playful rock and roll record of 2016.
Top Track: Baby – The perfect execution of pop simplicity, a damn catchy stomping melody and a swaggering vocal performance with plenty of b..b..b..ba..be..be..b..ba..by's!
Watch: Baby

3) Volbeat – Seal The Deal & Let's Boogie
Genre: Rock | Label: Universal
One Line Summary: Danish Rock royalty once again deliver a first class set of stratospheric snow capped anthems that can only be Volbeat, oddly indecipherable lyrics, jaunty rhythms and their gritty but overtly commercial sound that has you singing from the mountain tops.
Top Track: Black Rose (Ft. Danko Jones)  – Superstar Scando-Canadian Combo is a riotous clash of styles which punches out rapid fire lyrics, thudding power chords, tempo shifts and epic melodic moments not to be missed.

Watch: Seal The Deal
2) Förtress – Ambrosia
Genre: Hard Rock/Metal | Label: Triassic Recordings
One Line Summary: Enthralling and entrancing psychedelia infused heaviness treading a careful line between Hard Rock and melodic Heavy Metal, swinging and swaying through thunderous groovetastic guitar lines delivered by the higher rock gods, pivoting their intricate tempo shifting melodies across funky/bluesy/proggy styles with both grace and power.
Top Track: Bitch Demon – Trad heavy metal opener has its foot firmly on the accelerator as it piles through overdriven riffs, only making way for the true track highlight of a funk filled head boppin', toe tappin reverb soaked guitar bridge/solo which just makes you want to move your feet.
Watch: Bitch Demon

1) Monster Truck – Sittin' Heavy
Genre: Hard Rock | Label: Dine Alone Music Inc.
One Line Summary: Canadian rockers bust down the door to greatness with this southern swingin' record that has such depth of awesomely simple but effective big hitters that both loves to raise the fist and worship at the altar of rock and roll, whilst not forgetting stellar soaring choruses to get the people singing along.
Top Track: The Enforcer – Aggressive, dangerous, no nonsense highly volatile assault of a rock and roller wrapped in a tribute to the eponymous brutal hockey players with a less than average number of teeth, a song that screams don't mess with me..or else you will get hurt!
(Rock &) Roll on 2017!