Its Top 10 time…
10) The Vintage Caravan – Gateways
Genre: Hard Rock | Label: Nuclear Blast Records
Quick Fire Summary:Swagger is not something easily earned and this Icelandic (?) Classic Rock trio have more than mere mortals. Their huge groovy guitars plunder the blues, whether at a deep stoner plod, or with a rampaging riff. They take their queues from the 70's hard rockers but are not bound by rules. Their styles are so dynamic with so many twists and tempo changes they are impossible to take your ears off them. Vocals a la Manic Street Preachers added to Deep Purply riffs and prog tendencies, this is homage of the highest order. The rock gods approve.
Top Track: Reset – A What a Thumping Riff! Like a precision uppercut a polished knockout blow that would lift most men off their feet. The vocal/guitar interplay is well balanced whereas the tempo shifts are totally off kilter. Not forgetting the frenzied solo which rises to a glorious crescendo. If you love hard rocking albums of stellar quality, look no further.
Watch: Reset
9) Beartooth – Disease
Genre: Hardcore Punk | Label: Red Bull Records
Quick Fire Summary: Probably the heaviest album on this year's countdown comes from this Ohio Hardcore Punk come emotive hard rock band. Aggressive and in your face with brash thrashing and confrontational attitude. The counter-punch is that they have a unique knack for pop heavy hooks and soaring euphoric vocals. A hard and fast batch of edgy rock anthems for an angry generation.
Top Track: You Never Know – Showcasing the two poles of their conflicted sound. The pure, clean harmonious highs of the pop punk chorus are sandwiched by crushing metallic riffs and driven along with reckless punk abandon. Best of both worlds collide here.
Watch: You Never Know
8) Turbowolf – The Free Life
Genre: Rock/Prog/Punk | Label: So Recordings
Quick Fire Summary: Another Bristolian rock band, only this bunch of noiseniks add a electronic shot of psychedelia to their hard rock sound. Synths, Effects Pedals and gloriously fuzzy heavy blues make sure they sound huge despite being a trio. They are equally danceable as they are moshable, producing both outlandish and kaleidoscopic garage punk bangers. Thoroughly modern and magnificent.
Top Track: The Free Life – The title track kicks off right away with a dramatic fuzz fuelled riff which slow burns in a cloud of fuzzy amplification. This almost stoner-esque daydream is cruelly shattered by a killer wind-up crescendo and following military grade riffage that bombards all in its wake. Plenty of further madness ensues with squealing guitars, flaring high, and deep lulls all bound by a damn hooky chorus. A real power "trip!".
Watch: The Free Life
7) Clutch – Book Of Bad Decisions
Genre: Hard Rock | Label: Weathermaker Music
Quick Fire Summary: Clutch are one of those bands who do little wrong. Their recent resurgence starting with Earth Rocker have been nothing short of spectacular. Their latest can be added to this list. This has some all out attack blues punk aces alongside more refrained mid tempo groover's and soulful sawyer's.  The vocal interplay and unexpected lyrical content is what makes them work though, the gruffly drawled delivery backed with riff after fuzzy riff breathes vitality and life into every verse.
Top Track: Gimme The Keys – A spectacular opener which sets of on a course for destruction. Long drawn out power chord chops and spoken verse is all a decoy, for when the chorus kicks in, it's throttle down punk energy and engulfing fuzzy riffs. Hard rock that takes absolutely no prisoners.
Watch: Gimme The Keys
6) Monster Truck – True Rockers
Genre: Hard Rock | Label: Mascot Records
Quick Fire Summary: The title of Monster Truck's 3rd full length album provides a succinct enough evaluation of their sound, ambition and lifestyle. To give them credit its a very accurate assessment, as it really is a True Rocker. It's a no holds barred, blues fisticuff that also likes a throwback to rock's glory days with plenty of organs and harmonica to boot. Its a straight up, no-nonsence, beer swilling, hard strutting roller that's not the be trifled with.
Top Track: Young City Hearts – One of the more restrained efforts on the album, this tune flicks between piping organs, strutting basslines, a ripping melody and a the roaring chorus. Its effortlessly cool and flowing throughout. Yet it's a expansion on their sound, they can rock hard still, but just doing it subtly.
Watch: Thundertruck
5) Hardcore Superstar – You Can't Kill My Rock And Roll
Genre: Hard Rock/Glam | Label: GAIN
Quick Fire Summary: 11th Outing from HCSS see them finding their old jovial selves whilst pushing themselves forward. Looking back it encapsulates some of the most fun and glamtastic tracks in the discography, yet it showcased a more modern metallic side which is darker and heavier. The mix is addictive. As a sleazy hard rock band they yes have big, dumb, OTT songs and some pretty epic singalongs, but knowing (with half a tongue in cheek) that means they play to all their bombastic strengths.
Top Track: You Can't Kill My Rock And Roll – "The Only Way Out Is All In" the quote which opens the video to this heart pounding, chest beating defiant roar of a song pretty much sums up its approach. There are no half measures here on this bonafide rock anthem that rocks 80's style in a sleazy retelling of Kiss' "God Gave Rock And Roll To You". The chorus line however describes it better than I could, "Don't Be A Whiny Bore, You Can't Kill My Rock And Roll!".
Watch: You Can't Kill My Rock And Roll

4) Audrey Horne – Blackout
Genre: Hard Rock | Label: Napalm Records
Quick Fire Summary: Scandinavia and modern interpretations of classic/retro rock have been intertwined for years (Volbeat, Dead Lord, Night Flight Orchestra etc…). The best of which balance both fantastic musicianship, virtuoso guitars and a single minded melodic focus at the core of their sound. As you'd expect all are present and correct on the latest from these Norse Hard Rock vikings. They bring their technical chops across from Black Metal beginnings to meld Iron Maiden dueling metal licks with Thin Lizzy pop hooks, that whilst supremely catchy, does not hold back on turning up their big classic rock amp dials.
Top Track: Rose Alley – Like turning on the radio and finding out you are actually back in 76′ and the Lizzy have just released their seminal Jailbreak. This unabashed homage to Lynott and co. (Rosalie or Rose Alley?) is stunning with a riff that is absolutely mesmerizing and a loud soft dynamic that underlines the simple by stellar chorus lines. The fact it would easily slot into the Jailbreak track list is the highest praise I could offer.
Watch: Audrevolution

3) Death By Unga Bunga – So Far, So Good, So Cool
Genre: (Garage) Rock | Label: Jansen Records
Quick Fire Summary: More Swedish goodness takes a podium finish, from the band with probably the silliest/coolest name in history. Whilst identifying as a Garage Rock, they are more rock and roll and closer to power pop acts such as Cheap Trick. Pop hooks are at the core of everything good they do and this sweet ear candy melodic nature pours out wave after wave as super Sticky McStick earworms. Its a damn fun album that doesn't take itself too seriously as its too busy larking about. Despite this they weave some cracking guitar lines and big riffs all pumped through some nice vintage distortion which doesn't sound to forced and is nicely compressed for that DIY rough round the edge sound.
Top Track: Soldier – It's big, its damn catchy and it has probably the funniest, most camp and finest retro gaming Street Fighter II / Streets of Rage inspired music video you will ever likely to witness…
Watch: Soldier
2) Slash – Living The Dream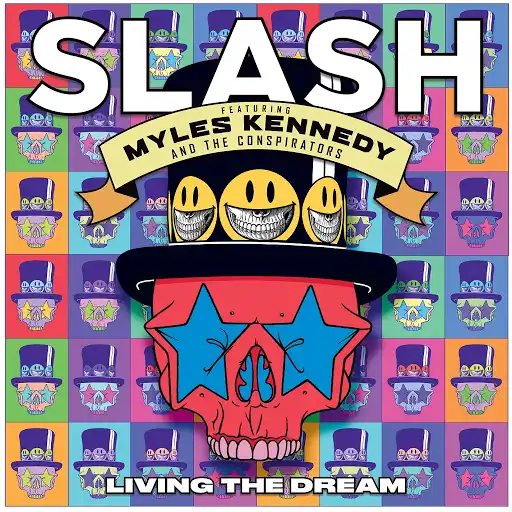 Genre: Rock | Label: Roadrunner
Quick Fire Summary: What happens when you put the finest vocalist of modern rock and the finest hat wearing guitar player? Living The Dream, that's what! Its a combination made with true balance and chemistry that has unlimited potential. This album is a rockers delight which revels in the finest and most inventive bluesy inspired hard rocking melodies around. Top that off with stratospheric vocals and infectious lyrics and you have a Pop Rock album whose quality outshines almost all others in 2019.
Top Track: Call Of The Wild – Start as they mean to go on, this opening gambit lays all their aces down on the table. Slash providing the bluesy lick, stunning tone, crunching amps whilst Myles Kennedy's voice heads skywards. Beating drums, an adrenaline fuelled urgent rhythmic cadence and all round party starter! Play it loud, hard and fast! 
Watch: Call Of The Wild

1) Tremonti – A Dying Machine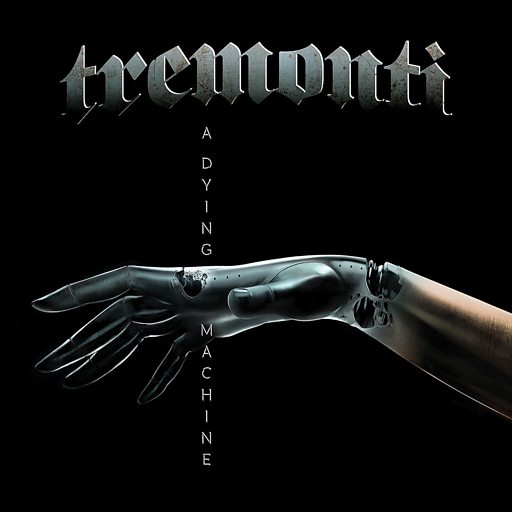 Genre: Metal/Hard Rock | Label: Napalm Records
Quick Fire Summary: Topping this years list is the other Alter Bridge guitar slinger, Mark Tremonti. He applies his full arsenal of carnage on this heavy (very heavy) solo outlet, plus his voice now sounds incredible. Its not all loudness and metal though. It tilts towards an expansive post-grunge tones which adds depth and mood to these intricate masterworks both on earnest ballads and face melting metallers. It's a concept album, so top marks for creativity too. Its both brutally heavy and melodically beautiful, splashing the musical canvas with light and shade, aggression and hearty emotion in equal measure. Yet its the uncanny knack for the finest sing-a-long's and soaring chorus' which sets A Dying Machine apart from all others in 2018…the Rock Gods salute you!
Top Track: Take You With Me – From the opening bar, the accelerator is slammed to the floor as it carves up the land, obliterating everything in its path. Its unrelenting power chords and tough metal chugga chugga's barely rest, only doing so to allow the towering determined vocals to fly. Inspiring passionate lyrics will soon have you standing in line next to the main protagonist ready to lay it all on the line. If ever there was a song to kick start an actual battle, this would be it.
Watch: Take You With Me

That's all for 2018. Well done to you if you got this far! Rock (& Roll) on 2019.