Despite the lack of posts in 2015 and a total number of gig outings which can be counted on a single hand, doesn't mean that DoesItRock HQ has been idle. As in previous years this countdown is not one going to be a list for those who critique (for a living), neither for those who champion quiet innovation over earsplitting anthemic qualities. So here's the rundown of those monstrous albums which rocked planet Earth in 2015 with raw energy, massive power and more riff per song than anywhere else (…probably)
Scroll down for part one of 2015's DoesItRock.net Album of the Year countdown: 25-10.
 

25) Screaming Eagles – Stand Up And Be Counted
Genre: Hard Rock
One Line Summary: Debut packed full of fist pumping, perfectly polished bluesy driving anthems from this classic rock inspired Northern Irish foursome.
Top Track: Ready For The Fall – The epitome of a foot to the floor hard rock highway anthem.
Watch: Ready For The Fall (Live)

24) Kyshera – Circle
Genre: Alternative Rock
One Line Summary: Muscular riffing and electro effect infused tunes led by a stunningly dynamic vocalist displaying a huge amount of potential and variety within the bounds of arena ready rock.
Top Track: Napoleon – The crushing opening riff gives way to a number of nifty guitar sub-melodies all driven by those enigmatic and captivating vocals, whilst even managing to throw in some galactic effects too for good measure.

Watch: Break This
23) Turnstile – Nonstop Feeling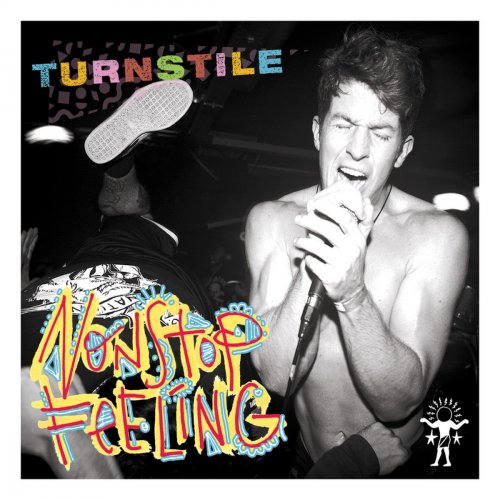 Genre: Hardcore Punk
One Line Summary: Anger and ferocity channeled through metallic walls of guitar, bringing back the full force of Rage Against The Machine for the 21st Century punk generation.
Top Track: Drop – Frenetic opening onslaught of drums and vicious vocals take a backseat to that mammoth Morello-esque riff for a headline grabbing 1 min 47 secs.
Watch: Drop
22) High On Fire – Luminiferous
Genre: Stoner Metal
One Line Summary: A stampede of furious gargantuan Stoner Riffs sent howling from the depths of the Earth to wipe out all that dare stand it their way!
Top Track: The Black Plot – A deep pummeling  intro builds to a stinging crescendo of galloping guitars which let rip for a non stop ride of snarling speed metal.
Watch: Slave To The Hive
21) Gunship – Gunship
Genre: Synthwave
One Line Summary: The neon lights are flashing and synth sounds are ringing for this 80's loving electro band (of Fightstar members) making hugely enjoyable soundscapes of dreamy futuristic 'Blade Runner' pop.
Top Track: Fly For Your Life – A pulsating synth backdrop and retro gaming vibes are brought to life with a brilliantly catchy chorus and a truly stunning video to complete the package (see below)!
Watch: Fly For Your Life
20) Santa Cruz – Santa Cruz
Genre: Glam Metal
One Line Summary: Scandinavian glam can rarely be considered heavy, but this combination of thunderous metal riffs, synth driven pop melodies and the most awesome guitar solos of 2015 is to hard beat.
Top Track: Bonafide Heroes – Heavy guitars, glittering gang vocals, a soaring chorus, slick production, a thumping riff, a stonking solo, bursting energy … all present and correct!

Watch: My Remedy
19) Blackberry Smoke – Holding All The Roses
Genre: Country/Blues
One Line Summary: Country infused southern rock strikes gold with a combo of bluesy swagger, country twang and genuinely captivating radio rock.
Top Track: Holding All The Roses – A barnstorming bluesy shuffle delivers the soundtrack to a full throttle drive through southern U.S. of A.

Watch: Rock & Roll Again (Live & Acoustic)
18) Turbowolf – Two Hands
Genre: Rock
One Line Summary: Party loving psych-hard rockers return with a rather kaleidoscopic trippy effort, but it's still packed with plenty of blazing riffs, stomping rhythms and an ignited fuse ready to blow.
Top Track: Rabbits Foot – Tubthumping bass riffs, strutting vocals and massive fuzzy power chords that leave craters in their wake.
Watch: Rabbits Foot
17) Danko Jones – Fire Music
Genre: Hard Rock
One Line Summary: Danko takes a turn towards the dark side with this heavy heavy rock and roller, packed with shady lyrics and ferocious guitars proving there's is plenty of bite left in the Jones beast.
Top Track: Gonna Be A Fight Tonight – A blitz of machine gun guitars played at breakneck speed, typifying the all out attack mindset.
Watch: Gonna Be A Fight Tonight

16) Coheed & Cambria – The Color Before The Sun
Genre: Rock/Prog
One Line Summary: Stepping out of the Armory wars bounds sees a return of accessible rock songs and personal emotive lyrics all with thier trademark intricate melodies and anti-generic ethos.
Top Track: Island – A powerful pop rocker with strong melodies, the likes of which had long since been forgotten in the C&C arsenal make a welcome return.
Watch: Island
15) Sorority Noise – Joy, Departed
Genre: Emo, Rock
One Line Summary: Alt rock from this Emo outfit blends triumphant outpouring of epic guitars with understated confessional lyrical delivery to create an enigmatic and dynamic debut album.
Top Track: Art School Wannabe – A bright and jaunty ditty is firmly at odds with the lyrical content, navigating the cheerful/sorrowful divide with ease.
Watch: Art School Wannabe (Live)
14) Alien Ant Farm – Always And Forever
Genre: Rock
One Line Summary: An overdue return for this US band proves they are not just great cover version merchants and that they are still going strong in creating anthemic but unique uptempo radio rockers.
Top Track: Homage – Truly stratospheric piano rock with superb lyrics littered with nods to their musical heroes of the past, deserves to be a mega-hit.

Watch: Let Em Know
13) We Are Harlot – We Are Harlot
Genre: Rock
One Line Summary: A high speed thrill ride of a record with a rock and roll heart pumping playful and exuberant classic rock, as viewed through a hard partying Motley Crue lens.
Top Track: Dancing On Nails – Strutting rock and roll good times with flaring guitar licks and a pulsating reckless energy.
Watch: Dancing On Nails

12) Muse – Drones
Genre: Prog Rock
One Line Summary: A concept album about war and ethics brings back the big riffing and more traditional muse songwriting constructs which have served them so well, very enjoyable as long as you start clear of the political messaging.
Top Track: Reapers – Warped electro whirlwinds, simple but effective blues runs and those unmistakable Bellamy falsettos are back in abundance.

Watch: Mercy

11) Four Year Strong – Four Year Strong
Genre: Pop Punk
One Line Summary: Commercialised melodic hardcore turned pop punk proves that you can have both technically intricate melodic interweaving (heavy-ish) guitar lines, a dialled in pop radar and an arsenal of huge choruses all within a great set of adrenaline pumping party tracks.
Top Track: Who Cares?– A cataclysm of relentless drumming, pummeling power chord strikes, melodic guitar lines and complex gang vocals all in a 2 minute fiery frenzy.

Watch: We All Float Down Here

Stay tuned for the top 10!